Annabel Moynihan

Inside the Artist-Annabel Moynihan– February 2017
As we enter the month of February, we arrive at the heart of winter. It is here that we face the juxtaposition of our cold Vermont landscape, layered in hibernation, with the joyful celebration of passions held deep within our hearts and shared with our family, friends and community.  For local violinist, Suzuki method educator, composer and world traveler, Annabel Moynihan, playing along the edges of these connections and contrasts to create work that is both simple and sophisticated is at the heart of her musical journey.  From the traditional Irish fiddle to electric violin, Annabel has crossed continents with her instrument and placed her feet in multiple worlds, bringing that diversity to her composing, performance and to the students who inspire her every week.  Click on the link above to hear more about what Annabel had to say…
Come take a musical journey with Annabel and her band, "Knotwork", bi-weekly at the Red Hen Bakery in Moretown. You can also join her next month on March 17th at the Grange Hall Cultural Center in Waterbury Center, where she will be performing with band members, students and local fiddlers of all ages alongside traditional Irish dancers.
 Heidi Hill

inside-the-artist-heidi-hill – January 2017
As we turn the calendar to a new year full of promise, resolutions and new beginnings, we can slow down momentarily and take time to reflect on the experiences, accomplishments and challenges of the year we are leaving behind.  Those moments are the foundation for the story we are creating in our daily life.  Local writer and blogger, Heidi Hill, has found great inspiration in the power of reaching out with her written word, sharing her own personal story and asking her readers to contemplate how it may connect with their own lives.  Heidi has discovered the power of "leaning in", the liberation in playing with something new and the joy that can be found in coming back to connecting to heart, soul and personal growth in her writing.  She shares her contemplations and reaches out weekly in her Everyday Essays blog.  A contributer to the new Thrive Global online community, Heidi inspires her readers to discover how we are all connected in the universality of our daily life experience. Click the link above to hear more about what Heidi had to say…
Jeanne Beckwith

inside-the-artist-jeanne-beckwith – December 2016
As the days shorten and the shadows lengthen, the bright lights of the stage call us to take a look inward and take the time to immerse ourselves in  storytelling brought to life.  What better way to bring hope to the darkness than with a thoughtful and humorous look into the complexity of our human-ness.  Playwright, English professor and champion of theater arts, Jeanne Beckwith finds heroes all around her and believes that there is nothing like the "doing" to give life meaning and shape.  Encouraged by a comment from on of her early English professors , Jeanne took her natural ability to write dialogue and has spent a lifetime discovering, learning, honing and sharing her craft.  She believes you can never underestimate the power of what one teacher says they see in you.  Click the link above to hear more about what Jeanne had to say…
MK Monley

inside-the-artist-mk-monley – November 2016
As the colorful display of fall slowly fades from our landscape, the colors created by the community art at the heart of artist and educator, MK Monley's work burn bright day and night.  MK took a page out of her busy calendar to share with us her passion for fostering the "maker" in each of her students.  With the belief that we as humans have a desire at our core to create things with our hands and share it with others, this beloved Thatcher Brook Primary school art teacher connects her students to the community through art and helps them find their own artistic voice in her choice based classroom.  Our community is her canvas and MK paints it boldly; the colors and images created are sure to move us whether she is making lanterns for the annual A River of Light Parade, working with classroom teachers and professional videographers to create a visual hands on learning project about local dairy farming in Farming: A Job with a Big Past and a Bright Future , partnering with library and classroom teachers, students and the Susan Sebastian Foundation to study local history through architecture in the book A Walk Through Waterbury: Small Town, Big History , or offering a chance for students to work through and share their experiences Post Irene in The Floodgates Art Project (see Gordon Miller's gallery for images).  Click the link above to hear more about what MK had to say…
The co-creator of A River of Light Lantern Parade is hard at work preparing for "Everything Botanical".  Participate in the excitement by creating your own lantern during one of the community building workshops this month, or come watch MK and her students as the lights of their flora and fauna flow through downtown Waterbury during the parade, December 3rd.  Learn more about the upcoming workshops and parade at A River of Light in Waterbury.
To read the blogs referenced in MK's spotlight interview, click the links below:
TBPS Art Room blog – MK Monley
CBMS Art Teacher blog – Nan Hathaway
 Rachel Laundon

inside-the-artist-rachel-laundon – October 2016
Fall came slowly this year and the still waters left behind run deep despite the drought.  Wonder and joy for the mysterious world that exists under the water's surface lie at the heart of the art created and shared by local artist and sculptor, Rachel Laundon in her fantastical off-the-wall fish.  Rachel combines sculpture, encaustic painting, metal and found objects into works of art that communicate to the viewer the delight she feels during its creation.  Melding ancient arts and modern technologies, Rachel enthusiastically invites us to share in her playful explorations of nature as she brings it vibrantly to life.  Click the link above to learn more about what Rachel had to say…
You can follow Rachel's fish from Waterbury to Stowe, downstream to Middlesex and Waitsfield or upstream towards the Islands of Lake Champlain at various restaurants and galleries.  For a quick local fix, catch them at the new VT 100 Store in the Lake Champlain Chocolates / Cabot Cheese Annex on Rte 100 or drop by and frolic with the fish at the Stowe Street Cafe.
Darren Higgins


 Inside the Artist-Darren Higgins – September 2016
Shorter days, changing leaves, migrating songbirds and children heading back to school harken the slow wind down to summer in Vermont.  Writer, poet, editor, storyteller, artist, bird lover and father of two, Darren Higgins slowed his pace for a moment to reflect on  how his love of art and writing are intricately tied and have been deeply rooted since childhood.    Darren's artistic journey has migrated through the White Nights of St. Petersburg, Russia, to the writer's community at Hugo House in Seattle, to the classrooms of Vermont College of Fine Arts, eventually finding roost at his home here in Waterbury Center, Vermont.  Inspired by a book of poetry during the busy days of small children and graduate school, Darren stole satisfying moments of creative art-making in his cold mudroom.  It was the beginning of his desire to create visual art that gives physical depth to the written page.  Click the link above to learn more about what Darren had to say…
Excerpt from "BEAST" by Darren Higgins:
Leaves scatter crackling across the yard
until pinned by the woodpile or stamped and snapped
by the neighbors' black dog loose
in the far field again
Susan Bayer-Fishman


 Inside the Artist-Susan Bayer-Fishman– August 2016
With the lazy, hazy days of summer setting in, it is time to pause amidst all the activity and take a moment to notice, explore and appreciate the colors, textures, sights and sounds of the lush and buzzing world around us.  Sitting in incredibly comfortable and stylish designer lounger chairs in the Stowe Artisan Gallery, local stained glass artist and interior designer, Susan Bayer-Fishman, shared with us how she spends her days grounding living spaces in her clients' authenticity with hand-made pieces that provide "soul" in their living environments.  From her commissioned stained glass pieces and eclectic craft gallery, to her commercial and residential interior design, Susan's work is all about creating environments that have meaning for her clients.  Click the link above to learn more about what Susan had to say…
Anna Belongia


Inside the Artist-Anna Belongia – July 2016
With summer colors  blossoming rich and brilliant, another season brings the promise of new discoveries and explorations.  Recent Harwood Union High School graduate and recipient of the 2016 Mitch Siegel Emerging Artist Award, Anna Belongia paused to share her story before venturing on.  Anna spent hours of her childhood exploring nature and finding ways to express her creativity, logging countless time in and out of the classroom learning and practicing as much art as she could absorb.   She loves the discovery of how things work in nature and cherishes the calming process of creating something beautiful with her own hands.  The places where science and art intersect is the path Anna has chosen to explore as a freshman double majoring in Studio Art and Biology at UVM this coming fall.  Click the link above to learn more about what Anna had to say…
Harwood High School students were asked to go through an application process for the Mitch Siegel Award this year that included several pieces; an artist statement, references, employment/volunteer experience and portfolio images.  Read  Anna Belongia – Artist Statement to discover one of the many compelling reasons that she was selected as the 2016 award winner.
Elizabeth Fram


Inside the Artist-Elizabeth Fram – June 2016
Birdsong is the score as nature unfurls in its brilliant palette of colors, filling our senses and leaving us with the promise of rebirth and growth.  Inspired by the form, texture and asymmetry in Japanese gardening, local artist Elizabeth Fram blends and pushes the boundaries of the mediums she masters looking for the balance between control and happy accidents.  Elizabeth hones in on the details of the day to day things that we so often overlook, making her experience, and ours, richer in the process.  Sharing these experiences in her blog Eye of the Needle, Elizabeth opens the door to her studio and the discipline that is the zen of her daily art practice.  Click the link above to learn more about what Elizabeth had to say…
Taryn Noelle


Inside the Artist-Taryn Noelle- May 2016
April showers bring May flowers as the saying goes.  Turning the page into May, we captured a moment with local artist, Taryn Noelle, whose artistic talent is in constant bloom.  As a teenager Taryn saw George Woodward's production of Bus Stop at a local theater and that was all it took.  "I totally fell in love.  That was huge," said Taryn, "It was beautiful and it's stayed with me.  That's how it starts, finding something that gives you inspiration early on and makes you see what's possible."  This dedicated actor, singer, dancer, choreographer and educator melds the diversity of her talents into an ever-evolving work of art that shines brightly for all to look, listen and learn.  Click the link above to learn more about what Taryn had to say…
 Jeremy Ayers


Inside the Artist-Jeremy Ayers– April 2016
Remember the joy of playing in the mud? Feeling the weight and texture, shaping it to create something new out of earth and your own imagination?  Local potter and art educator Jeremy Ayers lives this joy daily in his work with clay and enjoys teaching and sharing it with others.  His passion for the interplay between form, line and pattern brings his pieces to life with strength and simplicity.  His pieces stand as a strong testament to his mastery and love of this ancient art form.  With the recent realization of his intention to create a studio space and retail shop side by side, Jeremy allows us as visitors to witness the story of his process, from wheel to finished piece.  With an early mud season in full swing, we asked Jeremy to share his own story.  Click the link above to hear more about what Jeremy had to say…
Visit Jeremy's studio at 18 Elm Street in downtown Waterbury Tuesdays through Saturdays 12-5 pm and at the Burlington City Arts Market from June through September at the Farmer's Market.
 Nina Towne


Inside the Artist-Nina Towne– March 2016
The promise of spring to come is in the air and local jazz musician, French teacher, floral designer and Proud Flower owner, Nina Towne, is harnessing its sweet tune.  Risk, intuition and improvisation abound as Nina taps into her creative muse to find the possibility in everything.  Whether it is in reading her customers to harness the emotional power of her flowers, playing with the diversity and beauty of Daisy, her flute, in a jazz combo, setting the backdrop in Jazzaoke for others to explore their musical whimsy,  or striking out on a new adventure to combine her many loves in "Players, Poets and Posies", Nina taps into her muse and embraces change as it comes.   Click the link above to hear more about what Nina had to say…
Catch Nina's spring fever at Proud Flower, Waterbury Square, 80 South Main Street (on the park) in Waterbury or catch her at Jazzaoke at the Waterbury Grange, March 25th.
John Snell


Inside the Artist-John Snell – February 2016
With the world around us finally covered in a blanket of white, nature photographer and Montpelier artist, John Snell, found himself happily immersed in the hoar frost and new ice of the season.  John photographs the inherent beauty in things that others might just walk by.   He notes that while we tend to go right to the middle of things when we are looking at an image, it is the edges that John consciously pays attention to, and what he believes truly makes a photograph great.  John joined author Nicole Grubman and Across Roads for an artist talk and guided walk through Waterbury Center at the end of January to share the inspiration behind his work and help kick off Waterbury WinterFest 2016.    Click the link above to hear more about what John had to say…
See more of John's work this month in his exhibition, "The Wonder of It All", at The White Meeting House in downtown Waterbury. Connect with him directly through his blog, Still Learning to See.
Rachael S. Lorimer


Inside the Artist-Rachael S Lorimer – January 2016
As we prepared to turn the page on 2015, we focused the New Year's spotlight on former Across Roads President and renaissance artist Rachael S. Lorimer.  Her ability to zoom in on life's detail or use her panoramic view to see the larger perspective comes from a transformative childhood realization that there is so much we are not seeing even as we are looking.  The lesson she shares is the power we each have to selectively use our senses to observe, experience and interpret the world around us.  Using simple tools and her passion for plants, this articulate artist and administrator intentionally carves out time to create, be playful and share it with others.  Click the link above to hear more about what Rachael had to say…
Joy Spontak


Inside the Artist-Joy Spontak – December 2015
With the holidays rapidly approaching, we followed the jubilant light of Joy Spontak.  This social worker and educator is an artist at heart and lives her passion by sharing her work in color and light with the world.  Joy believes that we are all creative beings who can accomplish amazing things.  Joy's passionate enthusiasm and delight in art has given her life direction through the years and she thoughtfully facilitates this journey with her students in workshops when she herself is not busily drawing or painting the world around her.  Click the link above to hear more about what Joy had to say…
David Schein

Inside the Artist-David Schein – November 2015
With stick season exposing the bare bones of our landscape, we decided to partner with Vermont artist, David Schein to help us expose our inner character voices and explore how best to develop and capture them on the written page.  This writer, actor, teacher, administrator, activist, editor, clown, and entrepreneur is always seeking a new mode of expression.  At the heart, what "jazzes" Schein is his love of people, words, music, and playful exploration.  As a rigorous student of life, Schein finds the world around him a fascinating trove of treasure fodder.  Click the link above to hear more about David…
"Character Voices," taught by David Schein, Saturday, November 7, 9:30-Noon will be held at the White Meeting House, 8 N. Main St, Waterbury. Open to a wide range of ages and abilities.  $10 in advance, $15 at the door.  Across Roads Center for the Arts members free.
Sarah Vogelsang-Card

Inside the Artist-Sarah Vogelsang-Card – October 2015
As the shadows lengthened, the days began to shorten and the Blood Moon lunar eclipse foreshadowed the Halloween season, we sought out local artist and co-curator of Burlington's annual The Art of Horror exhibit, Sarah Vogelsang-Card.  This dancer, photographer and puppeteer overcomes the challenges of a degenerative disease daily and explores the darker parts of her mind through her art as a way to balance both sides of life and fully appreciate happiness.  Sarah embodies the essence of Yin-yang as she grapples with the dark rawness of real life challenges and finds light in the storytelling, fantasy and escape of her dancing.  Click the link above to hear more about what Sarah had to say…
Celebrate the beautiful side of decay with Sarah at the opening of The Art of Horror exhibit on Saturday, October 2nd from 5-11pm.  The S.P.A.C.E. Gallery in Burlington hosts the exhibit which promises to indulge the senses with dark imagery from a variety of Vermont artists and spirit conjuring performance art.
Kim Ward
 
Inside the Artist-Kim Ward – September 2015
We turned the lights on inspirational playwright, dancer, poet and President of the Vermont Playwrights Circle, Kim Ward.  Kim's high school nomination to attend the Vermont Governor's Institute  on the Arts helped her identify her passion and focus as a writer at a very young age.  Dedicated to hosting workshops and artist experiences for the community that are collaborative and affordable, Kim has helped create a network of artists focused on promoting the staging of original theater works by Vermonters.  With the final curtain call on TenFest behind her and September staging of PlayCon 2015 in full swing, Kim stepped into the spotlight to share her story with us.  Click the link above to hear more about what Kim had to say…
Waterbury Rotary Summer Concert Series
 
Inside the Event – Lynn Mason on the Waterbury Rotary Concert Series – August 2015
In this new spotlight feature, we connected with Lynn Mason, current coordinator of the Waterbury Rotary Summer Concert Series.  This cherished annual summer music event is held Thursdays from June through August at Rusty Parker Memorial Park in downtown Waterbury.  With the Waterbury Farmers Market as the backdrop, music lovers picnic, dance and catch up with neighbors to the sounds of whichever band is on tap for the evening.  Lynn gave us the low down on how this event has evolved from a way to honor and celebrate a well-loved Rotarian and Radio icon to a can't miss weekly event that concert goers from ages 0-100 can enjoy.  Click the link above to hear more of what Lynn had to say…
Meredith Goodwin
 
Inside the Artist-Meredith Goodwin – July 2015
Meet this year's Mitch Siegel Award recipient, Meredith Goodwin.  This up and coming video artist and photographer is post graduation and preparing for her time studying film and production at the University of Denver in Colorado this fall.  Enthusiastic, energetic and inspiring, Meredith took a quick moment to let us know how film/video's ability to take people to new places and make people feel and feel great about what they see is the power behind her senior projects and was inspired in part by her two trips to Rwanda through the Harwood Union High School Travel Study program.  We're looking forward to hearing how her first year in film studies evolves as she has agreed to a mid-year follow up interview.   Click the link above to hear more of what Meredith had to say…
Kelley Taft
 
InsidetheArtist-KelleyTaft – June 2015
As the summer solstice brings longer days, local photographer Kelley Taft slowed time and artfully captured for us the story of her journey as an artist in words and images.  Kelley's passion for finding beauty, meaning and grace in the everyday moments comes through not only in her tranquil images but in how she lives her life.  From her beginnings in the fields and barnyards of her family's dairy farm to her clinical work in psychotherapy, through homeschooling her daughter and connecting to her community through the Farmer's Market, Food Council and local arts events, this earth mother finds inspiration in all she does and manages to inspire us in turn through the beauty of her work.  Click the link above to hear more of what Kelley had to say…
Immerse yourself in the emotional energy of Kelley's images during her current show at the White Meeting House in downtown Waterbury, now through June 30th.
Anne Decker

Inside the Artist-Anne Decker – May 2015
With the turn of the season and its' accompanying symphony of birdsong, we were able to catch local conductor, musician, educator and TURNmusic founder/artistic director, Anne Decker on the fly.  This new music enthusiast found her wings last year when she launched the TURNmusic series with performances in Burlington and her hometown of Waterbury Center.  Percussion is her base and rhythm and groove tie her love of all musical genres together to inspire her work.  The spaces and places where music and life connect are the sweet spot where Anne finds her inspiration to bring new music to new audiences.  Click the link above to hear more of what Anne had to say…
Catch Anne and her eclectic ensemble at the next series of TURNmusic on May 15th (The Green Mountain Club-Waterbury Center) and 16th (Arts Riot-Burlington).
Cristina Pellechio

Inside the Artist-Cristina Pellechio – April 2015
Even with the spring thaw and mud season in full swing, local ceramist, painter, photographer and busy mom, Cristina Pellechio, managed to carve out some time to share with us the details of how her love of travel, nature, and being in the moment inform her work.  Because she doesn't consider herself beholden to one, her eye for many art forms gives her an opportunity for a larger sense of  expression and balance.  In her process, pattern and repetition become a meditation, and the palette Cristina sees outside the window fuels a desire deep within her soul to saturate her work in color.  Click the link above to hear more of what Cristina had to say…
Sarah-Lee Terrat

Inside the Artist- Sarah-Lee Terrat – March 2015
We found the pot of gold at the end of the colorful rainbow of light that is local artist, Sarah-Lee Terrat.  This inexhaustible illustrator, muralist, and designer, finds the fun in everything and digs herself deep into all that she creates.  From her murals at Arvad's Grill & Pub and the Visitor's Center in the Waterbury Train Station, to her Ben & Jerry's and NRG Systems environmental design legacies, Sarah-Lee uses color to create worlds and evoke our emotions.  Bask in the glow of her creative soul on March 5th during her "Inside the Nitty Gritty – Commercial Art and the Creative Process" show at River Arts.  "Treasure Town", a collaborative children's book many years in the making with brother, Doug Wilhelm, arrives on Amazon in April 2015.  Click the link above to hear more of what Sarah-Lee had to say…
George Woodard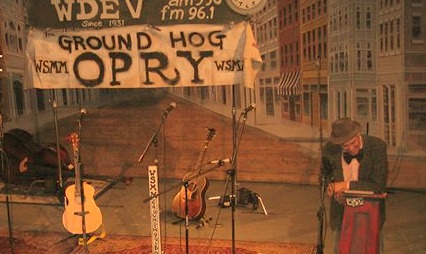 Inside the Artist-George Woodard – February 2015
With Groundhog Day rapidly approaching, we ferreted out farmer, actor, musician, filmmaker and Woodchuck Theatre producer, George Woodard.  Influenced by old films and a sense that things work best if the subject is one you know, this renaissance man captures and shares with us the essence of small town life through his music and theater productions.   From the award-winning film he made with his son, Henry (The Summer of Walter Hacks), to the upcoming March 2015 performances of the Ground Hog Opry, George knows how to make us laugh with his humorous and witty blend of nostalgia and current events.  Click the link above to hear more of what George had to say…
Mame McKee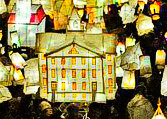 Inside the Artist-Mame McKee – January 2015
As the winter solstice turned the page on a new season, we found artist, educator, business owner, community activist and prolific potter, Mame McKee preparing for the birth of a new year.  She creates art from mud and repurposed materials and shapes creativity in her students at Seminary Art Center, whether they are 6 or 65.  Inspired by the world around her, Mame anticipated she would feel small standing in front of da Vinci's David.  Instead she realized that we are all artists; the constantly flowing small tributaries that feed into the larger ocean of art.  Click the link above to hear more of what Mame had to say…
Willie Docto

Inside the Artist-Willie Docto – December 2014
We tracked down Eleva Chamber Players founder and Moose Meadow Lodge Bed and Breakfast owner, Willie Docto.    Moved by a concert of the Brahms' Trio he attended 20 years ago, Willie endeavors to create an experience through Eleva that grabs his audience, elevates their spirit and transports them to a different place.  A violinist from the 6th grade, Willie has found a way to combine his passions for playing and management into a career that focuses on the beauty of happy music, good food and community involvement.  Click the link above to hear what Willie had to say…
Gowri Savoor
 
Inside the Artist-Gowri Savoor– November 2014
We followed the bright light of local artist, teacher and community leader, Gowri Savoor, to discover more about how her passion for nature drew her to Vermont and how its small communities and seasonal cycles continue to inspire her.  She believes Vermont needs to build more communication between people and communities and has devoted her career to facilitating it in any way that it can happen.  Gowri has explored these themes in her own art, as a teacher and through community partnerships;  the most well known to many of us in Central Vermont being the River of Light Lantern Parade.  Gowri laid bare her branches and took time to share the how and why of her art.  Click the link above to hear what Gowri had to say…
Build on your imagination and creativity and come create your own light for the parade this year.  Join Gowri at one of three lantern making workshops being held around Central Vermont during the month of November.   For more information and schedules related to this awe-inspiring event, visit A River of Light in Waterbury.
Heather Morris

 Inside the Artist-Heather Morris  – October 2014
We traced the footsteps of Green Mountain Performing Arts (GMPA's) Celtic Program and Managing Director, Heather Morris, to find out more about what motivates her to teach this rich cultural tradition of dance.  Heather has been connected to Celtic dance since the age of seven and the culture, the music, the community and most importantly, the kids, keep her continually motivated.  This busy dancer, teacher, director and leader of the Heather Morris School of Dance paused in the hectic choreography of life to share what inspires her to share her love of Celtic dance with kids.  Click the link above to hear what Heather had to say…
GMPA is opening its doors to the community in a number of ways during the month of October. Look for details of their upcoming events on their website and in Across Roads calendar pages.
George Pierce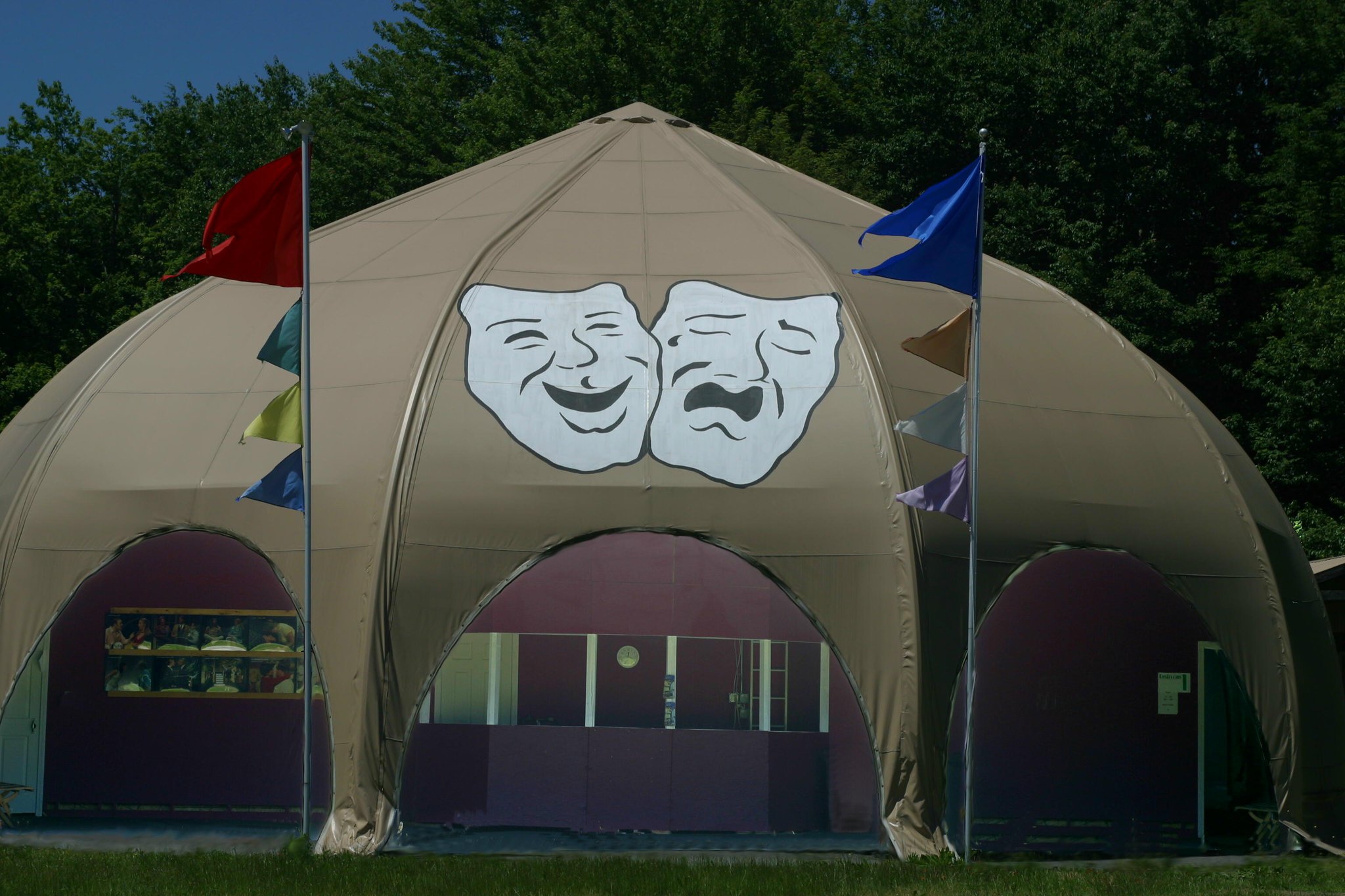 Inside the Artist-George Pierce – September 2014
We caught up with local resident and Waterbury Festival Playhouse founder and director, George Pierce.  Inspired by a high school friend and later his college mentor, Ralph Dressler, George has been working behind the scenes to create worlds in lighting, set design and directing.  Together with his wife, Ginger, and his six children, George has made theater one of the important supporting roles in the story of his life.  Click the link above to hear what George had to say…
See George's art in action at the next Waterbury Festival Playhouse show- The Underpants (Carl Sternheim), Steve Martin's adaptation of an old French farce.  It's wonderfully irreverent, yet still family accessible.  Evenings from September 25 – October 11, 2014 beginning at 7:30pm.
 Torrey Carroll Smith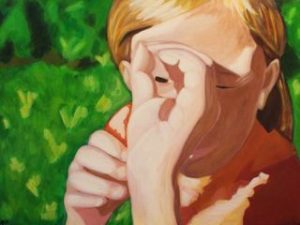 Inside the Artist-Torrey Carroll Smith – August 2014
In our first spotlight interview, we connected with Duxbury artist, Torrey Smith.   Torrey was deeply inspired by the beautiful flower arrangements created and donated weekly by a fellow artist/community member for services she attends at the White Meeting House.  She saw each unique arrangement as a gift, a private art show, that she looked forward to each week.  Struck by this simple act of generosity, beauty and joy, Torrey found the courage to keep it growing by taking a step forward in her own life journey through art.  This busy community activist, artist, beekeeper and mom of three made time to talk with us recently.  Click the link above to hear what Torrey had to say…